News from Functional Anatomy & Evolution
Read our latest announcements about department updates, honors and publications.
Deanna Goldstein to Present Doctoral Dissertation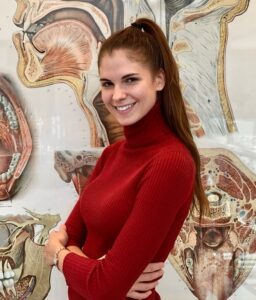 Deanna Goldstein will present her doctoral dissertation as part of the FAE Seminar Series on Wednesday, January 19, 2022.  Her thesis is titled "External and internal carpal morphology of knuckle-walking apes among mammals."
Ms. Goldstein earned her BA in Anthropology and Art History from New York University and joined the Center for FAE after receiving her MA in Biological Anthropology from Northern Illinois University.  She is currently a Research Instructor at Stony Brook University.
Dr. Adam Sylvester serves as the Chair for this dissertation.  The thesis committee is composed of Dr. Christopher Ruff, Dr. Habiba Chirchir, Dr. Biren Patel.  Alumni interested in joining this presentation via Zoom on January 19th at 2:00, please contact the Center anatomyed@jhmi.edu.