News from Functional Anatomy & Evolution
Read our latest announcements about department updates, honors and publications.
Dr. Katrina Jones to Present in the FAE Seminar Series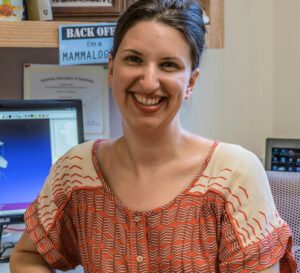 Katrina Jones is scheduled to visit with us and present for the FAE Seminar series on Thursday, Dec 2, 2021, in a talk titled "Building  the mammal back: An axial perspective on the origin of mammalian locomotion."  Katrina Jones is a Presidential Fellow and Royal Society University Research Fellow in the Department of Earth and Environmental Sciences at the University of Manchester. Her research investigates the interplay between adaptation and constraint in the evolution of the mammalian skeleton with a particular focus on the role of the axial skeleton in locomotor transitions.
Dr. Jones is originally from the UK, and gained her PhD in Functional Anatomy and Evolution at Johns Hopkins in 2014 under the supervision of Dr. Ken Rose, and subsequently completed AAA-NERC funded postdoctoral research at the Museum of Comparative Zoology at Harvard University.