Master of Science in Anatomy Education
The Johns Hopkins University School of Medicine Master of Science in Anatomy Education program is a one-year program that provides specialized training in clinically based anatomy (and related science disciplines) while enhancing communication skills through exposure to advanced educational theory and methods.  The curriculum supports a variety of post-graduation career interests that include (but are not limited to): admission to one of the many professional schools in the medical/health sciences (e.g., medical, nursing, and physical therapy schools), admission to a Ph.D. program in biology/biomedicine, and teaching positions in Higher Education.
Program Design
The program integrates coursework in the basic sciences and education to provide a synthetic learning experience that will prepare you to take on your next career challenge.  You will learn human anatomy alongside Johns Hopkins medical students and biomedical graduate students through an immersive, cadaver-based dissection course.  You will build a foundation of clinically relevant anatomical, histological, and physiological knowledge through lectures and small-group interactions with Basic Science and Clinical faculty from the Johns Hopkins Schools of Medicine and Public Health.  Through our collaboration with the internationally acclaimed Johns Hopkins Master of Education in the Health Professions, you will train alongside medical professionals in educational strategies that will improve your ability to communicate complex ideas in the classroom, boardroom, operating room, and beyond.
We Begin Reviewing Applications:
March 1st
Applications submitted after March 1st may still be considered
Information about the Masters Program
The core of this one-year full-time program is a series of courses providing intensive immersion in human anatomy through both classroom instruction and dissection laboratories, including small group interactions with our faculty. A teaching practicum providing training and experience in instructional delivery of anatomical knowledge in lecture and laboratory settings is also included at the end of the program. Some exposure to nonhuman comparative anatomy is incorporated to provide training in the use of model organisms for instructional programs that use these models. All anatomy courses are taught by the experienced faculty of the Center for Functional Anatomy and Evolution (FAE).
The main program runs between mid-August and the end of June, and includes nine courses, described in detail below.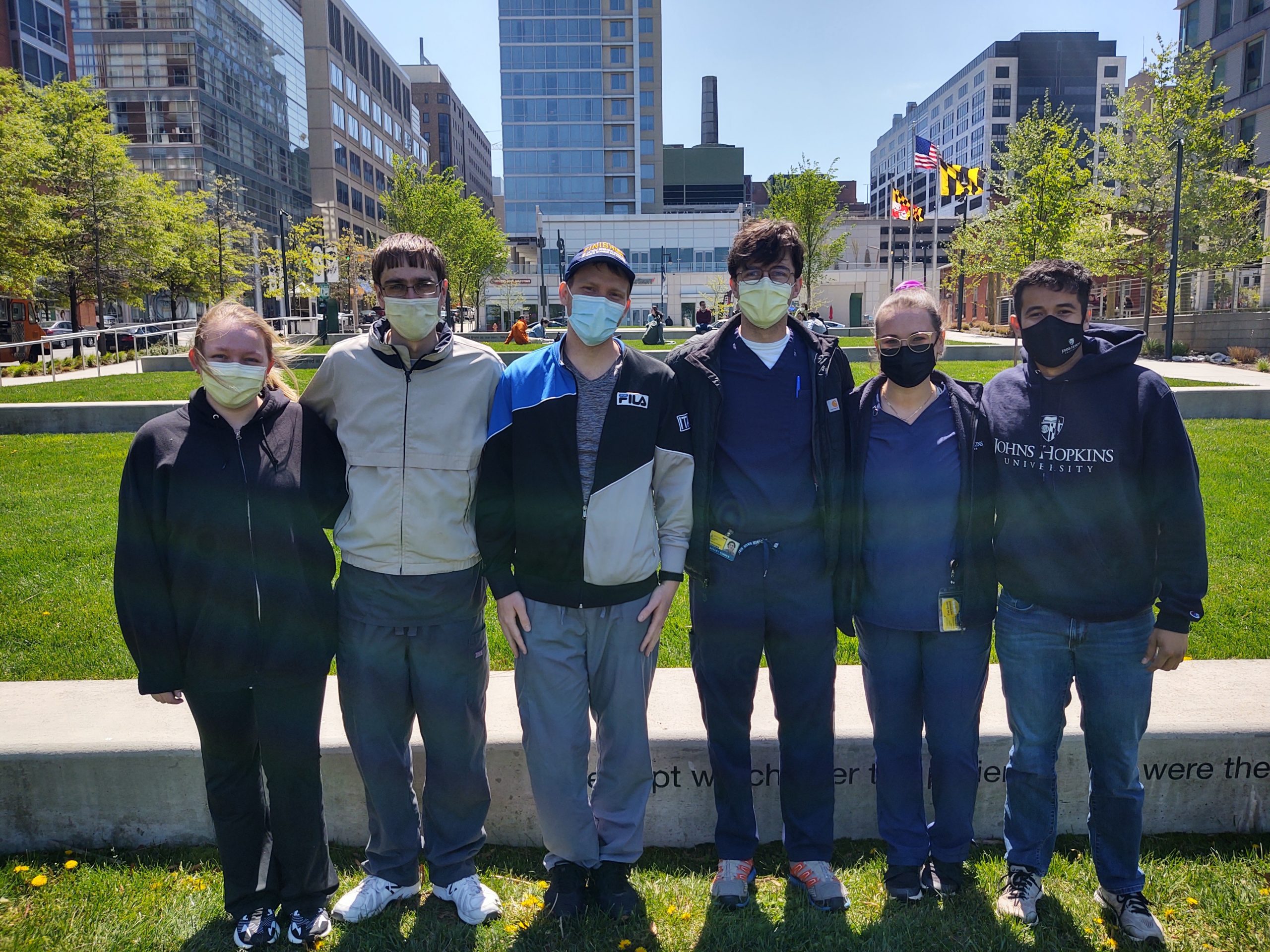 Left to right: Marli, Brian, Isaiah, Kelley, Hannah, Eric
All courses (except on-line courses) are held on the campus of the Johns Hopkins University School of Medicine in Baltimore.
Foundations of Human Anatomy
7 weeks, 7 credits
Intensive course taught to entering medical students and Ph.D. graduate students; includes lectures, small group activities (imaging, team-based learning, other), and full-body dissection.
Advanced Anatomical Dissection and Research
12 weeks, 5 credits
Supervised small group cadaveric dissection focusing on more detailed understanding of specific systems and regional anatomy, anatomical variation, clinical correlations, and comparative anatomy. Includes a research project and paper.
Teaching Practicum in Anatomy
8 weeks, 3 credits
Provides training in lecturing, small group leadership for presentation of anatomy; includes giving one lecture and assisting in labs in Summer Institute in Anatomy.
Introduction to Histology
5 weeks, 2 credits
Introduction to basics of histology, using  M-scope imagery and Inverse-lectures developed for Scientific Foundations of Medicine, plus individual instruction by FAE faculty.
Fundamentals of Human Physiology
8 weeks, 4 credits
Introduction to organ level human physiology, taught through the Johns Hopkins Bloomberg School of Public Health
Instructional Strategies I and II
6 weeks, 1.5 credits
Instructional methods in small and large group teaching – team-based, interactive, and case-based; strategies to enhance critical thinking, creativity, and cooperative learning.
Ensuring Learning through Assessment and Feedback
12 weeks, 3 credits
Design of effective assessment tools; aligning assessments with learning goals and objectives; use of feedback to monitor and evaluate learning.
Evidence-Based Teaching
12 weeks, 3 credits
Apply evidence-based strategies and methodologies to teach in a variety of settings; assess learner needs to guide instruction; effectively integrate technology into instruction.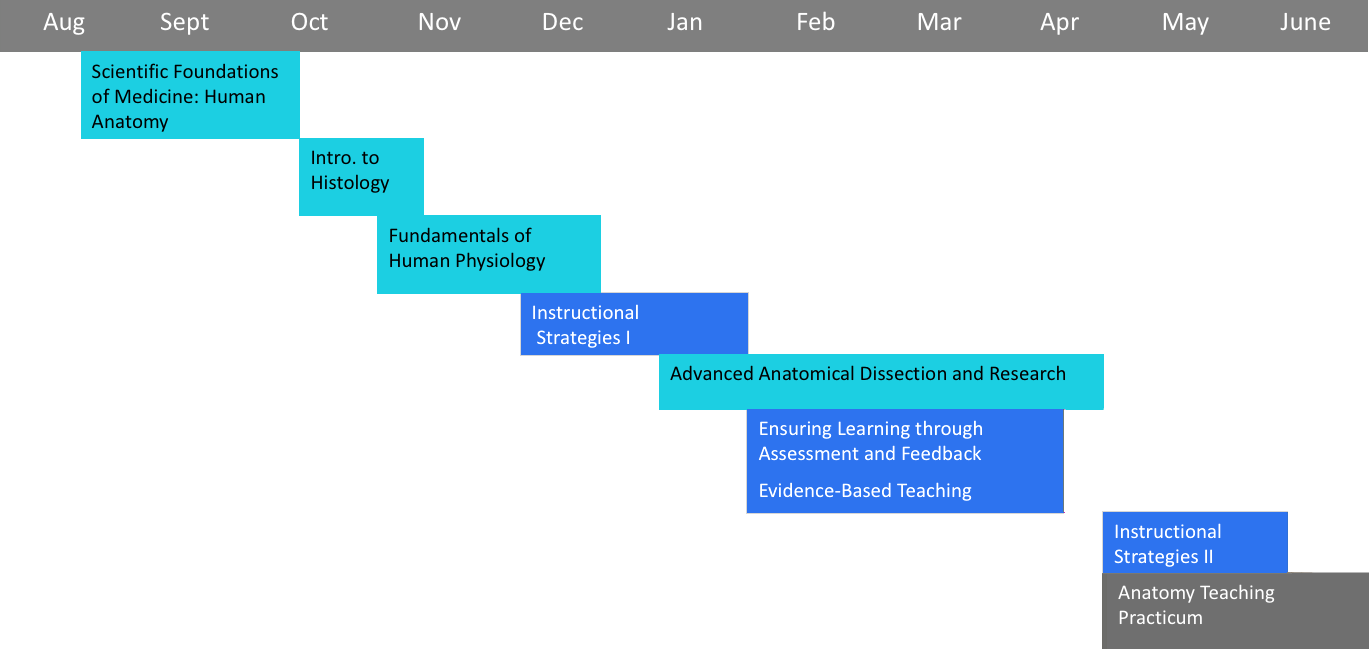 Admission Requirements
Bachelor's degree from an accredited college or university
Grade transcripts, personal statement, and two letters of recommendation
Demonstrated proficiency in written and spoken English, for non-native speakers
Interview with faculty (conducted virtually)
This program may also be appropriate for professionals in other disciplines who wish to return for specific training in anatomical education.
Tuition and Fees
A non-refundable application fee of $115 is payable by credit card at time of application.
Tuition for this program follows the Johns Hopkins Medical School level for full-time graduate students ($62,685 for AY 2023-2024). However, students admitted to the program will receive a scholarship from the medical school that reduces the tuition by 30%. More details on tuition, fees, and financial aid eligibility will be available during the interview and admission process.
Frequently Asked Questions
What do graduates do after earning the MSAE degree?
The program is designed to support a variety of post-graduate graduate careers.  Our graduates have continued their training in professional schools in the health sciences, entered PhD programs, and acquired teaching positions in medical schools, community colleges, and medical assistant training programs.
Is it possible to do the MSAE program part time or online?
Some components of the program represent a full-time, on-campus commitment.  Other aspects of the program provide a measure of flexibility.  We encourage our students to be on campus for the duration of the year in order to take full advantage of the opportunities and experiences afforded the Johns Hopkins School of Medicine.   That stated, we are willing to work with our students to the extent possible.
What is the tuition cost for the program?
Academic year 2023-2024 tuition for the MSAE program is anticipated to be $43,880. This reflects a Dean's tuition scholarship offered to each student, which reduces the tuition from the full-time graduate student tuition of $62,685.
Is there financial assistance available?
Students are encouraged to apply for graduate student loan support. The Financial Aid Office of the Medical School certifies the eligibility of students for the US Federal loan programs.  Financial considerations are confidential and individually determined, and do not influence admissions decisions.
Are international students eligible for admission to the MSAE program?
Unfortunately, students admitted to this program are not currently eligible for F or J immigration sponsorship.
Contact Information
Dr. Gabriel Bever (gbever1@jhmi.edu), MSAE Program Director
Ms. Chenelle Turner (cturne55@jhmi.edu), Administrative Program Coordinator
Dr. Matthew Ravosa (mravosa1@jhmi.edu), FAE Director
Students admitted to this program are not eligible for F or J immigration sponsorship.