News from Functional Anatomy & Evolution
Read our latest announcements about department updates, honors and publications.
FAE is thrilled to introduce Jess Chmielewski, Chrissy Davis, Sara Gum and Ezzat Shammas as MSAE students for the 2023 academic year. They bring strong experience in the life sciences to the Center for Functional Anatomy and Evolution. Jess earned a BS in Biology from...
read more
Stephanie Palmer for her proposal, "Insights into aquatic transitions through carnivoran comparative endocranial morphology." Savannah Cobb for her proposal, "Using computer vision to classify 'honing premolars' by sex and diet." Will...
FAE is excited to welcome Bianca Neale and Elizabeth Jewlal as PhD students in the fall of 2023. Both Bianca and Elizabeth bring a wealth of knowledge and experience to the Center for Functional Anatomy and Evolution, and we are thrilled to have them join our...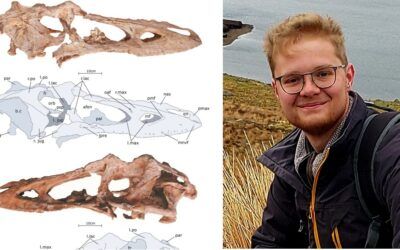 William Foster from Bever lab has published his first paper! Based on part of his master's thesis, Foster et al describe the cranial anatomy of the Chinese tyrannosaurid dinosaur Qianzhousaurus sinensis. Check out the full article here: "The cranial anatomy of the...